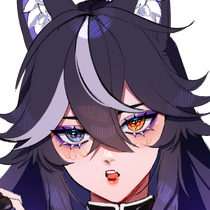 Kyaree Vtuber
Vartist + Vtuber
Work Samples
My portfolio can be found here
Can draw Slight NSFW not Full NSFW

masculine, feminine or non-binary characters are all welcomed!

No mechas, or non-humanoid characters please

Please no CopyRighted characters. Oc's are welcomed.

Ship art of all (age appropriate) types welcomed.

only Slight Animal features: OK more animalistic than additional cat ears / tail: probably can't do it justice.
Price
Additional Fees for Added in People / BGsChibi illustration | 60 usdSketch Colored Portrait Comm. | 120 usdDetailed Portait Comm. | 150 usdIllustration Piece includes BG | 180-200 usdLive 2D Cheeb Model | 550 usd includes 2 free emote togglesLive 2D Model base price | 1000 usd additional fees for features via contacting
Terms and Service
All my artwork is digital and you will not be receiving anything physical, ONLY digital copies.

Payment must be given upfront before it is started. It must be payed for before I even show a WIP of the work. I've been scammed before this is how I prevent being scammed. For Live 2D models there is a payment Plan alternative and the first payment is due once a sketch is turned in.

I'm human, I'm also my own artist for every vtuber activity. From time to time i will work on personal art. by commissioning me you must be understanding of this notion.

I don't do NFTs. I do not take Bitcoin Ethereum as payment. Under ANY circumstances are you allowed to use my art for cryptocurrency It is STRICTLY FORBIDDEN. You are not allowed to use ANY part of my art for NFTs. DO NOT COMMISSION ME TO USE IT AS AN NFT. YOU WILL BE BLOCKED/ BLACKLISTED.

Unless Commercial use was previously discussed, the finished commissions would be for private use only.

Selling /Reselling of my art without prior permission will result in a blacklist.

Paypal / Ko-Fi will be the money handling system. Please not that you will most likely have to submit a Commission form via Ko-Fi (to avoid paypal fees)

I'm allowed to post all finished art work on my socials. If you post my art work online make sure to properly credit me for my work.

Do not: Edit, remove water marks, and Trace my commission work. If you'd like minor edits you can message me and I'll be glad to do it for you. Failure to follow these steps will result in a blacklist.

I have the right to: refuse, refund or cancel a commission at any time if I do not feel comfortable working on it anymore.

When a commission is started please feel free to contact me every 1-2 weeks to check up on progress! I don't think its tedious. but my turn around once I start will be around 3-4 weeks for big projects, 1-2 for smaller projects. Feel free to contact me!

NO REFUNDS AFTER THE WORK IS DONE. If the commission is nearly finished you will NOT be refunded. I will only offer a partial refund around the sketch / base color is done and you are unhappy. After I proceed to Render/ finalizing the piece there is 0 refund policy.

By commissioning me you are allowing me to have streaming rights to your future art work, if you do not want your art work to be streamed please fill it out in the form, if you do not specify it, all art work will be streamed on twitch.

Posting WIPs is OK as long as you run it by me first.